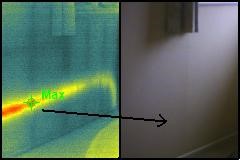 The source of water leaks isn't always evident, especially since most of your plumbing is behind the walls. A thermal imaging camera provides thermal readings that let plumbers 'see' moisture and water damage in building materials. It tells us where to focus our attention before we remove building materials. Unlike a moisture meter, a thermal imaging camera only detects temperature anomalies. It helps us get to the source of water damage without doing serious damage to your walls or floors. It isn't a silver-bullet solution, but it saves us time and saves you money.
Modern thermal imaging cameras are handheld, and they don't need light or physical contact to work. They offer a noninvasive method of viewing damaged pipework or hydronic heating blockages. We know where to focus our work without unnecessary damage. It isn't x-ray vision, but it is the next best thing!
We use some of the most advanced thermal imaging cameras available today. We also use non-penetrating meters whenever they are an option. This allows us to find the source of damage and get to work on the problem with minimal destruction to your home. We often supplement moisture meters with thermal cameras. This provides us with the most accurate measurements. This is especially effective when the source of moisture is unknown.
Identify Problems Before They Get Out of Control
Seemingly minor plumbing problems are often the symptom of a much bigger problem. A lot of water can collect in your wall before you see the first drop on your wall or in your floor. That's why it's important to contact a qualified plumber as soon as a problem gets started. It's also the reason that we rely on thermal readings when we diagnose your plumbing issues. It lets us find the source of the moisture that is out of sight. We can fix your plumbing problem before it gets any worse.
Compare the Location Before and After
We take a thermal image of the area before we do any work. Once the damage is assessed and the repairs made, a second image is made. The thermal readings validate that the area is repaired. You can be confident that the plumbing problem has been resolved.
All of our technicians are trained and certified to use thermal imaging technology. This lets us do a professional quality job without the destruction required by other methods. Contact us today to have your plumbing leak evaluated.
Call Today (855) ANY-PIPE or (855) 269-7473
Or fill in this form to get a free estimate